The stock is expensive, but for a reason. Investors cannot ignore this business of lending to the aspirational mass, which is in a sweet spot.
Bajaj Finance is the best performing stock in the Nifty year to date (YTD). While Nifty gave returns of 5 percent, Bajaj Finance is up by 55 percent YTD, creating a staggering alpha for the investors.
In fact, it has been one of the biggest wealth-creating stock growing 73x in last 11 years (generating CAGR or compounded annual returns of 48 percent). The stellar stock performance isn't a surprise since the lender has an enviable track record of growing its asset book by 42 percent CAGR and profit by 62 percent CAGR over the same period.
Given the strong outperformance of the stock, the questions that arises is should investors look at the stock incrementally and can it continue to do well? In our view, yes. The stock is expensive, but for a reason. Investors cannot ignore this business of lending to the aspirational mass, which is in a sweet spot.
Quarter at a glance
Bajaj Finance
Bajaj Finance, one of the largest retail asset financing NBFCs in India, posted yet another year of solid net profit growth of 81 percent year -on-year (YoY) as per Ind AS (Indian Accounting Standards) led by robust loan book growth and controlled expenses. The loan book increased to Rs 93,314 crore, growth of 35 percent YoY. Adjusting for one-off short-term IPO financing amount outstanding in Q1 of last year, loan growth would be 39 percent YoY.
Loan growth was broad based and was contributed by almost all business segments. Rural segment constitutes 7 percent of the loan book up from 1 percent in 2015 as company has increased rural branches & franchisees to 693, which is just below its urban network of 793 branches.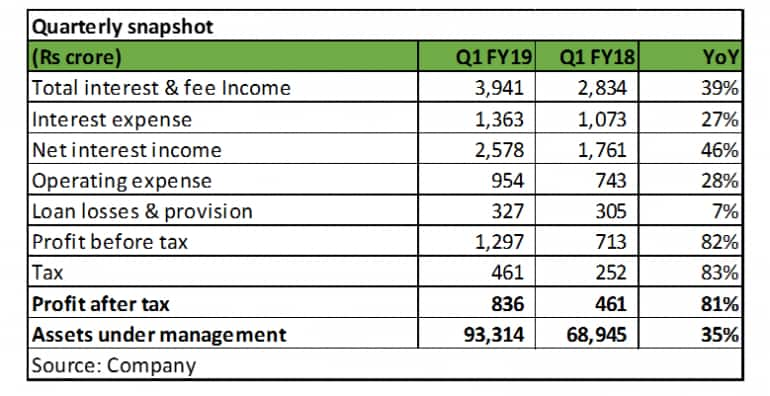 Cost to income declined to 37 percent from 42 percent last year as the base year had one off cost. Also, moving of housing finance business to a separate subsidiary led to some cost savings. However, cost are expected to inch up again as the lender continues invests for growth.  Asset quality improved with gross non-performing assets at 1.4 percent as compared to 1.7 percent last year. Despite providing as per expected credit loss (ECL) method prescribed in Ind AS, the increase in provisions was limited at 7 percent, indicating the NBFC was already following a conservative provisioning policy. The provision coverage on standard assets improved from 40 bps to 89 bps on transition to Ind-AS.
In Q1, the NBFC transitioned to Ind-AS. This resulted in some financial impact as adjustments were done as per norms for the prior-period. The 2 noteworthy impacts are 1) FY17 net worth declined by 6.5 percent and 2) FY18 profits was 7 percent lower under Ind-AS as compared to the reported number as per I-GAAP. While there has been restatement of profit, it is purely an accounting change. It does not alter the underlying economic value of the business or key investment thesis.
While the overall operating metric keeps getting better, we are most encouraged by the new customer acquisition of 2.07 million in this quarter, growth of 30 percent YoY. Bajaj Finance now has total franchise of 28.3 million customers.
Bajaj Finserv
Bajaj Finserv Limited (BFS), the holding company for the various financial services businesses under the Bajaj group also reported healthy performance. BFS participates in the financing business through its 55 percent holding in Bajaj Finance and in the insurance business through its 74 percent holding in two unlisted subsidiaries, Bajaj Allianz General Insurance Company (BAGIC) and Bajaj Allianz Life Insurance Company (BALIC).
BAGIC: Sharp improvement in combined ratio
BAGIC reported robust Q1 performance with its combined ratio now lowest among the peers. Gross written premium (GWP) increased by 23 percent YoY in Q1 driven by group health which now is the second-largest segment contributing 23 percent to total premium. Motor insurance continues to be largest segment with share of 44 percent of premium while share of crop insurance fell below 2 percent. We are particularly enthused by significant fall in the combined ratio to 90.2 percent, an improvement by 560 bps YoY, leading to underwriting profit.

BALIC: Muted growth
BALIC reported subdued Q1 earnings as growth in individual APE (Annualised Premium Equivalent) was soft at 2 percent YoY. However, a growth of 36 percent in renewal premium helped overall GWP grow at 18 percent YoY. While growth was weak, operating performance improved as persistency ratio increased across all time period (13, 25 and 37 months).
Despite improving performance of insurance businesses, Bajaj Finance (BFL) with 56 percent share, continues to be a significant contributor to parent BFS's profitability. We like the insurance franchise housed within Bajaj Finserv and see upside to Bajaj Finserv's valuation driven mainly by lending franchise and well supported by insurance businesses. However, given the fact that holding company structure has certain inefficiencies and awaiting clarity on Allianz's stake in insurance business, we prefer Bajaj Finance over Bajaj Finserv.
 What will drive Bajaj Finance's future earnings growth?
 While there is macro headwind in form of rising interest rates and increasing competition that can compress margins, the micro business of Bajaj Finance continues to be very strong. Consumer durable financing business requires a deep feet-on-street and a considerably evolved risk assessment processes, stringent underwriting norms, agile monitoring and superior collection mechanisms.  With the usage of technology, Bajaj finance has succeeded in creating all of these and build a superior franchise with significant moats.
Despite its high growth, Bajaj Finance's loan book is only 1 percent of the outstanding credit. Hence, we see enough growth potential.  For instance, Bajaj finance's existing customer franchise of 28 million is estimated to have around Rs 5 to 6.5 trillion of outstanding mortgage loans. Bajaj's ability to on-board them as its mortgage customers can offer immense growth opportunity. Moreover, there is significant opportunity to cross-sell products.  Overall, we see earnings growth sustainable on the back of Bajaj finance's vantage positioning and enough growth potential in the segment.
The big question for investors: Is the steep valuation justified, the high earnings growth notwithstanding?
Bajaj finance's stock is up sharply by 29 percent since our last earnings review note in May wherein we suggested investors to buy the stock. It is currently trading at FY20e P/B ratio (price-to-book) of 6.7 which is a significant premium to many other NBFCs.
There is little room for a re-rating of the valuation multiple. But we feel the company can maintain high earnings growth trajectory in the near term which will lend support to the premium valuations. Having said that, steep valuation doesn't leave much room for the lender to falter on growth or on asset quality.
While the rich valuations demand caution, the business's unique moats make it a must own core holding amongst Indian NBFCs. Hence, in the current volatile phase of the market, investors should look out for any price correction opportunity to buy into the stock.
For more research articles, visit our Moneycontrol Research page
First Published on Jul 23, 2018 04:11 pm