As many as 129 stocks on the BSE hit a fresh all-time lows in May.

The Sensex, which slipped nearly a percent in May, failed to close above its crucial support placed at 35,000. It reversed its gains on May 15 after hitting an intermediate top placed near 35,993, but plenty of stocks managed to hit fresh all-time highs on the BSE.
The proportion of stocks hitting fresh all-time highs were larger than stocks hitting all-time lows. Data for May suggests that nearly 130 stocks hit fresh all-time lows, which includes mostly small and midcaps names.
As many as 129 stocks on the BSE hit a fresh all-time low in May. These include: Hindustan Aeronautics, ICICI Securities, S Chand, Narayana Hrudayalaya, Inox Wind, Reliance Nippon Life Asset Management, Avadh Sugar, Tube Investments, IDFC Bank, Housing Development & Infrastructure (HDIL), and Punj Lloyd.
More stocks managed to buck the trend and hit fresh all-time highs. "Traders should stay away from the underperformers and look to add and stick to outperformers," Mazhar Mohammad, Chief Strategist – Technical Research & Trading Advisory at chartviewindia.in, told Moneycontrol. He added that even in this market, there are many stocks which are hitting new highs. "The focus should be on them."
As many as 147 stocks hit fresh all-time highs on the BSE. These include: Abbott India, Ashok Leyland, Asian Paints, Bajaj Finance, Berger Paints, Bombay Dyeing, Nestle India, Britannia Industries, V-Mart, HDFC Bank, IndusInd Bank, Hindustan Unilever (HUL), Colgate Palmolive, Raymond, Pidilite Industries, Mphasis, MindTree, Escorts, Mahindra & Mahindra (M&M), and Dabur India.
Pushkaraj Sham Kanitkar, AVP - Technical Research at GEPL Capital, advises investors to hold onto winners and avoid losers.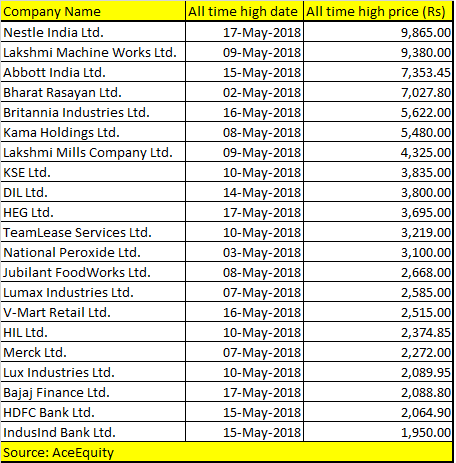 If we look at stocks hitting fresh 52-week highs in May, the number rises above 200. Data collated from Ace Equity suggests that as many as 217 stocks hit fresh 52-week highs. These include: Tata Consultancy Services (TCS), Pfizer, Bharat Bijlee, Benares Hotels, Divi's Laboratories, Bharat Financial Inclusion, Dr Lal PathLabs and Asian Hotels.
How should you trade stocks hitting fresh 52-week lows?
Apart from the 129 stocks which hit fresh life-time lows, over 550 stocks hit a fresh 52-week low on the BSE. These include: Blue Dart, Crisil, ACC, Ceat, Siemens, Motilal Oswal, Lupin, Strides Shasun, Jet Airways and Can Fin Homes.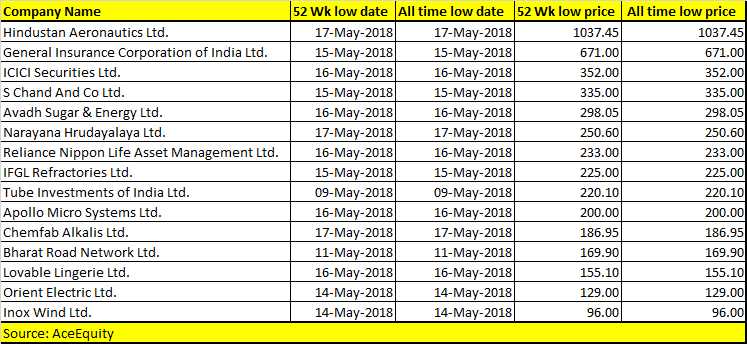 Analysts advise investors not to catch the falling knife as of now and focus on stocks which are gathering momentum or which are hitting fresh 52-week highs even in a falling market.
"If people are still long on stocks that are making 52-week lows they need to assess why they bought them in the first place. If the trades have gone bad, then an exit is usually the first decision before doing anything," Rohit Srivastava, Fund Manager – PMS, Sharekhan by BNP Paribas told Moneycontrol.
He advises managing risk by selling and waiting out. "The risky strategy is to try catching a falling knife. To buy when stocks are falling like nine pins without waiting for a clear sign of bottom from the market or Nifty itself is not the right thing to do."
First Published on May 21, 2018 11:15 am