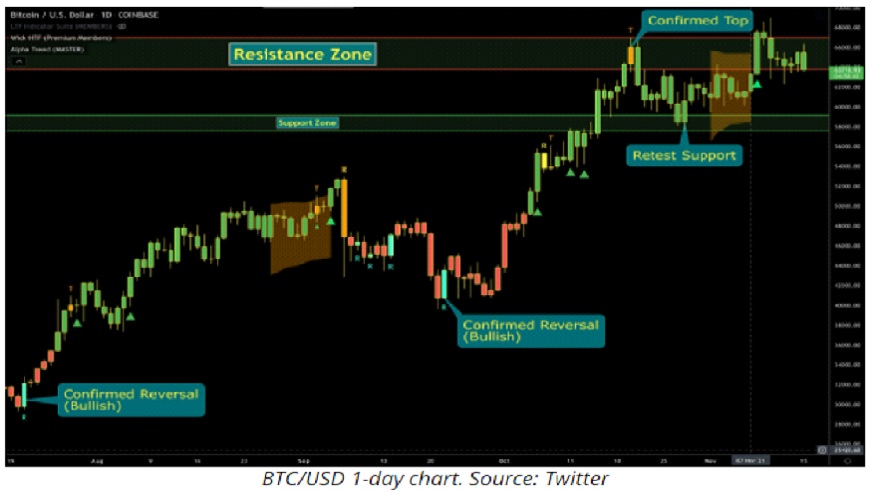 Post the spectacular run towards $69,000 on November 10, Bitcoin was back to testing its major support and resistance zones on November 16 when its price plummeted below $60,000 to as low as $58,600.The market has been flashing red ever since, with nearly every cryptocurrency in the top 20 seeing a significant dip.
Currently, Bitcoin is see-sawing around the $60,000 mark after the bulls pushed its price further up. Analysts believe that a move towards $63,000 would help Bitcoin remain afloat. The shock and awe, and now, the suspense of it all is keeping investors on tenterhooks on whether to buy the dip or not.
Crypto analyst firm Santiment recorded that "buy the dip" social media comments increased to 952 comments, the highest number recorded since September 7 when Bitcoin had dropped by 11%.
Reasons for the Bitcoin Drop
Before we explore whether to buy the dip or not, let's look at the reasons why BTC plunged despite its Taproot upgrade. Firstly, China recently reiterated its crackdown on cryptocurrency mining, calling it an 'extremely harmful' practice for the environment.
In addition, Twitter's CFO, Ned Segal, confirmed that they had no plans to start investing in cryptocurrencies right now.
Another crypto analyst feels that the dip isn't natural. More and more people are buying Bitcoin by borrowing money which might be causing the dip. Such positions are called leverage longs - where buyers buy with more money than they have. This can be observed in a metric called the exchange funding rate - which goes up when investors open highly leveraged longs, pushing the price higher.
However, this has a downside. When a sell-off begins, often by whales looking to flush people out, investors' positions can often go to zero and they can be forced to dump their positions. This causes a cascading effect and drops the price further. Once this stops, we could find BTC rising again. 
The US Senate is also working on improving the overly broad language in the Infrastructure Bill to include cryptocurrencies. Currently, the bill's language seems to require entities like miners and software teams to report data to the US IRS that they themselves may not have access to. Seen as a deterrent to innovation and market growth, the bill's passing may likely have had a negative impact on the market. All these developments have to some extent caused the dip, but experts consider this dip to be more organic than built-up.   
What do the Experts have to Say on the Recent Dip?
Several traders and Bitcoin analysts offered insightful opinions on the daily price movements of the biggest cryptocurrency on charts. While some asserted that Bitcoin is just exploring its resistance zone around its new ATH of nearly $69,000, others posited that Bitcoin might hit a low of $54,000 if it cannot break above some crucial support levels.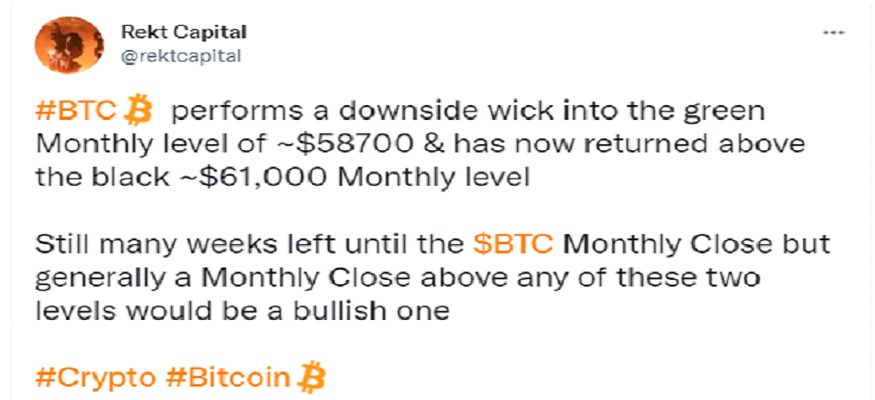 Analysts, particularly, feel that there isn't any need to fret over the current BTC fall. Chief Market Strategist at Miller Tabak, Matt Maley, says the largest cryptocurrency could still fall "a lot" without enduring any real damage from a technical standpoint. Bitcoin would have to plunge below $50,000 to cause some serious damage.
Nicholas Cawley at DailyFX is positive about the current Bitcoin plunge as more a 'correction of the multi-month rally'. He says, "(An) interesting area of support around $59,500 – if this holds, then we may well see Bitcoin reclaim its recent losses, and look at printing a new all-time high, over the coming weeks."
Another news article reported that the Bitcoin Long Term Indicator (LTH) turned red for the first time in 6 months, but that should not be a thing to worry about as Bitcoin's bull market seems to have entered a distribution phase.
"We've just gotten our first red prints on LTH net position change in over six months, showing bull market distribution has begun."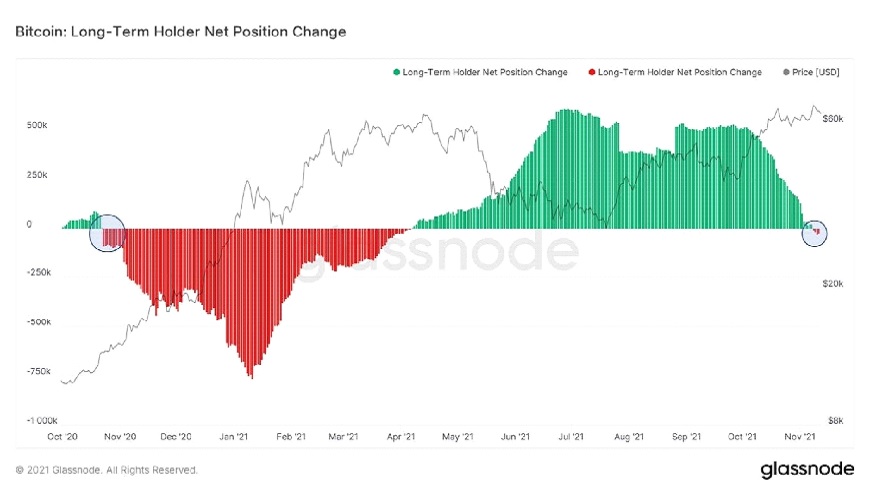 The distribution phase marks a temporary break on the bull mark-up as the BTC price readies itself to enter another profit-taking period. This current phase is a natural bull market behavior.
On the flip side, BTC funding rates have dwindled, and a lot of greed in the Bitcoin market has been neutralized. BTC's on-chain activity has also remained below all-time highs and marginally above bear market levels which is a good indicator going by previous cycles.
Another notable development, post the overnight BTC fallback on November 16, is that buyer support returned only after crypto liquidations hit $875 million as per data from Tradingview.
Are You Considering Buying the Dip? The current Bitcoin dip is more a correction phase than a slump. When we say this, we do not mean that every dip is worth buying. Things could go either way for Bitcoin in the coming days. However, crypto investments have yielded substantial pay-offs for investors who employ a long-term outlook while dealing in them.
Here are a few reasons why one could consider buying the dip:
A Zoomed-out Perspective
Bitcoin slumped on November 16, wiping off all the November gains. It was trading below $60,000 for the first time in two weeks. The weekly fall was as high as 11% when Bitcoin found solid ground and started recovering again. Currently, it is still trading below the $60,000 mark at the time of writing.
Most of October saw Bitcoin moving horizontally. But zooming out to yearly charts, we find Bitcoin has doubled in 2021 and tripled in value in the last 365 days!
Cryptocurrency prices fluctuate similarly to stock prices, where every new development impacts their standing on the price charts. Not every dip is a buying opportunity, but risk and gains are the salt and pepper in any recipe of an opportunistic investment. Undoubtedly, Bitcoin is undergoing a correction, and so is the market, but it still is at an all-time high price.
This is not 2017
The current slump after the spectacular rise would make many crypto pundits remember the aftermath of the 2017 Bitcoin price rise. BTC had almost tripled in value in the fourth quarter of 2017 and ended up shedding 3/4ths of its value in 2018.
The Bitcoin price cycle would continue to see troughs and crests in the coming days, too, but now things are highly different. Bitcoin has the backing of some of the leading fintech platforms, cryptocurrency and its trading has never been as mainstream as before, financial institutions around the globe are on a path of crypto inclusion as several regulations are in the pipeline, and so on.
Retailers and e-commerce merchants accept cryptocurrencies in general and Bitcoin in particular. Mainstream media coverage is widening globally, and several big names such as MicroStrategy and Circle hold a part of their reserves in Bitcoin. Bitcoins ATMs are being set up in many locations across the world geography, and BTC ETFs are finally gaining traction from traditional exchanges and government agencies. And how can we not include El Salvador's move to accept Bitcoin as a legal tender?
Bitcoin investment is a function of the volatile markets. This is what mindful trading is about. The buyers of the 2017 rise have their incomes tripled today- it is all about how we want to look at the picture. Cryptocurrency investments aren't for the faint-hearted or impatient. The markets have always been in flux while rapidly evolving simultaneously.
Bitcoin's Taproot Update
Bitcoin's Taproot upgrade has brought in added functionality to its existing privacy features. This recent upgrade could prove to be of great benefit to many institutional investors and commercial organizations that prefer some level of privacy and anonymity in their processes. Additionally, the upgrade will also lead to lower transaction fees and the ability to employ smart contracts and other blockchain features. It would be foolish to think that Bitcoin would sell-off after such a bar-raising upgrade. It is for us to decide whether to buy on the rumor, sell on the news or consider these gyrations mere noises.
Also, for those investors who follow Dollar-Cost averaging while investing in Bitcoin, it may be the right opportunity as you could buy more for less following the dip. This may be the moment to stretch your investment horizon.
Cryptocurrency investments have paid gloriously in the long run. Those skeptical of the short-term fluctuations can wait for things to mellow down. Bitcoin has been notorious as a volatile asset, but there were more volatile assets in the market way before Bitcoin came into existence. It is, after all, the perspective of the trader that would help them shoot their funds in a particular investment - whether Bitcoin or not.
This article is authored by Pratik Ahuja, Senior Manager, Marketing at WazirX
Disclaimer: Cryptocurrency is unregulated digital currency, not a legal tender and subject to market risks. The views and opinions expressed in the article are those of the author(s) and don't represent any investment advice or WazirX's official position.
Advertisement