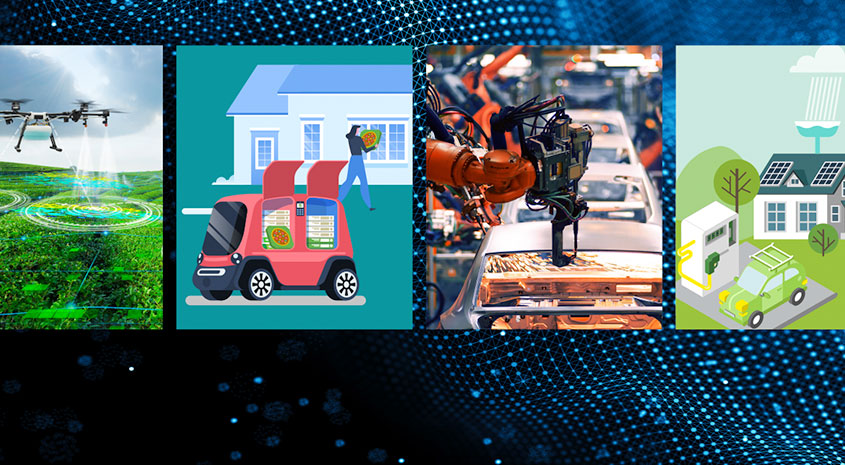 The Progression

Today the world is on the verge of a technological metamorphosis that radically alters the way we live, act, and correlates to one another, and the scale, scope, and complexity of the transformation is beyond anything that humankind has ever endured. However, if we see, the greatest inventions in history started with, the first industrial revolution pushed by the use of the power of water and steam for the mechanical process. With the advent of electric power, industrial production has seen unprecedented growth leading to the second industrial revolution. Without electric power, the greatest of the innovations were improbable as most discoveries currently advancing the society today, are only presumable with electric power.

The Revolution: Society 4.0

The third industrial revolution came with the shift from mechanical and analogue electronic technology to digital technology with the adoption and proliferation of computing power used for automation in production and information technology. Today, the Fourth Industrial Revolution is evolving on the third digital revolution, moulded by an amalgamation of technologies that is blearing the lines between the physical, digital, and biological domains.

The pace, magnitude, and intensity of this revolution is urging us to rethink how countries should develop, how organizations should create value, and even what it means to be social. Everyone is benefiting, including leaders, policymakers, and people from all income groups and nations, to harness technologies to create an inclusive, citizen-centred future.

Industry 4.0 Revolution is changing economies, making affordable digital innovations, products, and services to improve the quality of life around the world. Riding on the rapid advancements in IoT and AI technologies; billions of people are connected by handheld devices, with unparalleled processing power, storage capacity, and access to tremendous knowledge, transforming industries globally.

A synthesis of Industrial Internet of Things (IIoT) and operational technologies, remodelling machines acquire the ability to interact and share vital data; with minimal human intervention.

Emerging technology breakthroughs in fields such as AI, robotics, IoT, autonomous vehicles, 3-D printing, nanotechnology, biotechnology, materials science, energy storage, and quantum computing are augmenting the possibilities every day. Innovative digital fabrication technologies with biological science connecting computational design, additive manufacturing, materials engineering, and synthetic biology to mastermind a symbiosis between micro-organisms, human bodies, to commodities, and even our homes.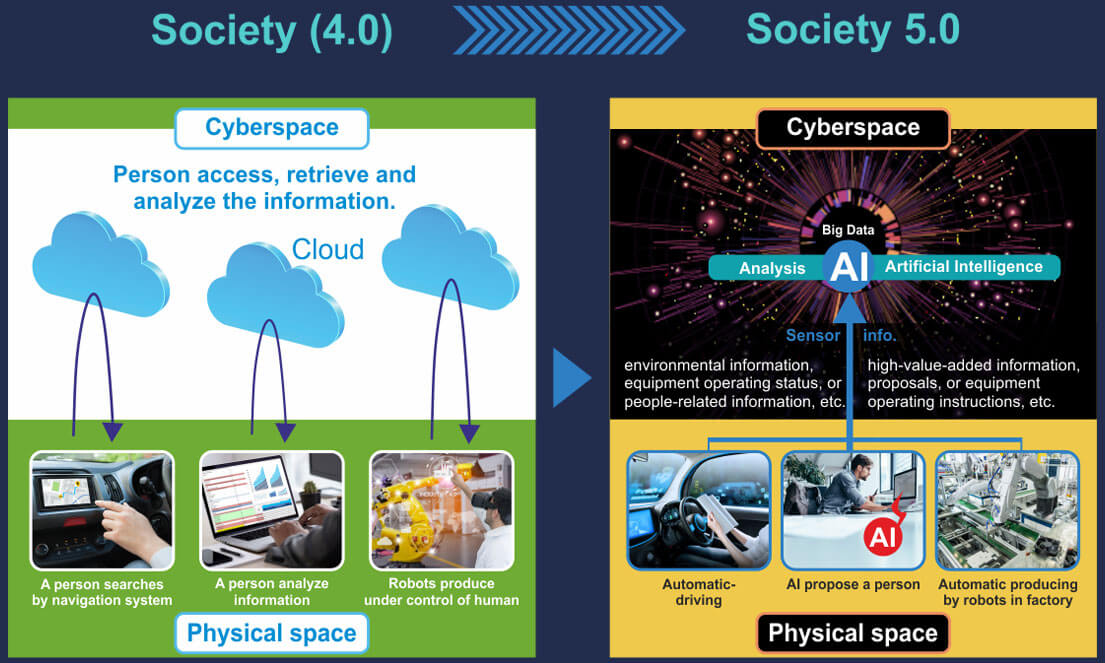 The Evolution: Society 5.0

Overflowing of information to store, identifying the relevant and real data to analyze, and restricted scope of action due to physical ability and lack of law and policies, creating a strain on current industrial, economic and social infrastructure of the nations, preventing them from taking adequate measures to resolve any critical issues in time. Increasing globalization and lifespan, progressing economies, international competitions, social and regional inequalities, are further complexing the situation. Sustainability across the industries, Green Energy, Climate Control, and Social Innovation are the need of the hour.

The tremendous potential of the Industry 4.0 Revolution is paving the way for the nations to embrace Society 5.0, the future reality as a stepping-stone to a prosperous data-synchronized Super Smart human-centered society. Social Innovation is combining new technologies such as IoT, AI, Robotics, Big data with Advanced Analytics capable of achieving a forward-looking prosperous society that balances economic advancement with the resolution of social problems.

People, things, and systems are all connected in initiating the evolution of Society 5.0, converging cyberspace, and physical space by collecting big data from various sources through sensors and devices. Big Data is analyzed by AI capabilities to integrate back into the physical space, with new values through various forms and media for people, industries, corporations to achieve both economic development and solutions to social problems in parallel.

In Society 5.0, the new value created through Social Innovation eliminates, regional, age, gender, and language gaps and enable the provision of products and services customized to various individual requirements and potential needs. It demonstrates the potential to resolve a variety of challenges in various fields such as Mobility, Healthcare, Agriculture, Food, Manufacturing, Disaster Control, Energy, and many more.

Society 5.0 concept fully integrates with Hitachi's vision of a 'Sustainable Society' where everyone can live a safe and fulfilling life. With a robust and comprehensive portfolio, diversity of digital solutions and integrated approach, Hitachi is equipped to work with the government in achieving this reality by developing a robust framework for a smooth transition to Society 5.0 and help resolve various social challenges through new-age digital technologies. A leading partner to the government's 'Digital India' initiative, Hitachi's Collaborative co-creation with the government in Railways, Finance, Agriculture, Urban Development and e-Governance is driving India to become a nation that is equipped to meet demands of society 5.0 in the future.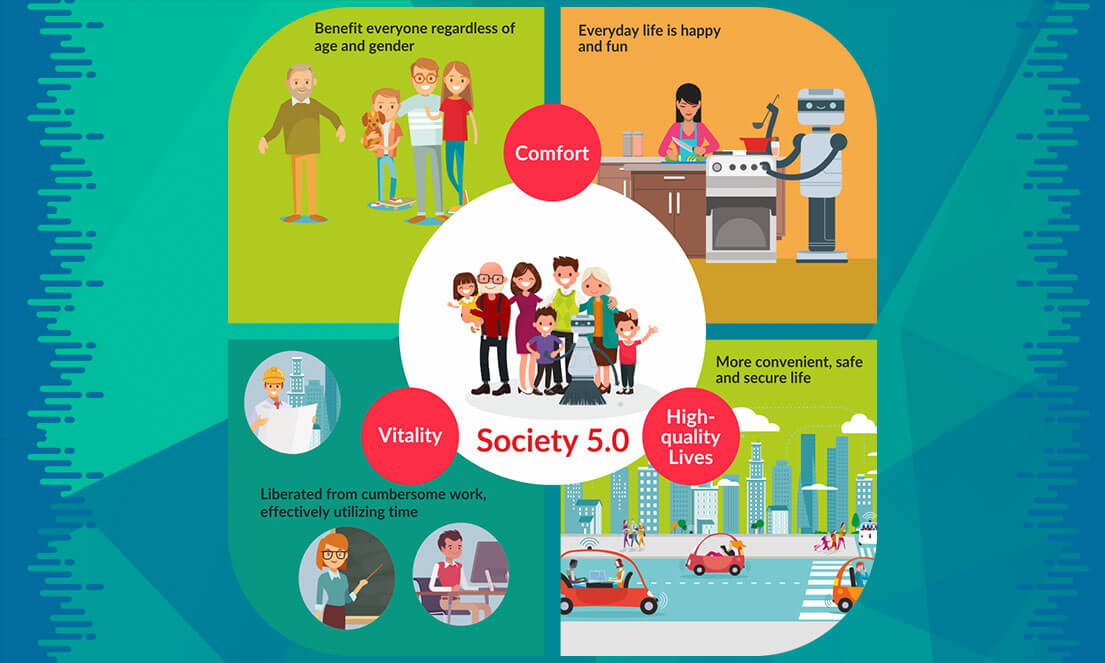 For example, in recent years as an outcome of the effects of climate change, India has been enduring irregular monsoon cycles, making it an arduous task for farmers to decide when and what crop to plant. The uncertainty exposes the country to a formidable challenge of subsistence; as a large section of the farming community in India represents marginal farmers. The occurrence of harvest failures can have a severe impact on their economic wellbeing. More so, an estimated 500 million people in India make their living from agriculture, decreasing harvest sizes due to climate change is an alarming social problem.(1)

Society 5.0 conceptual approach can help create new value in the field of agriculture through AI analysis of Big Data that constitutes of diverse information like meteorological data, crop-growth data, market conditions along with food trends and needs. 'Smart Agriculture' through automated farm work, automatic collection of crop data, optimizing water management based on weather prediction along with river data and shared know-how among others, enables farmers to devise a smart farming plan. Farmers can continuously adapt, based on new value predictions and to gain sustainable results and assure a stable supply to consumers.

Thus, the cumulative effect of adopting such new digital technologies helps the industries, corporates, and government meet the nation's initiatives, primarily in the area of minimizing carbon footprint, creating a sustainable society and maximize optimization of resources and enhancing the quality of life of citizens. Hitachi is at a vantage point to efficiently deliver vast and comprehensive IT X OT Solutions that can help the government fulfil its vision of a Better Human Life and create prudent solutions for India's future in the present, by contributing to the nation's journey to Society 5.0.

Source :

https://www.livemint.com/Opinion/2WSy5ZGR9ZO3KLDMGiJq2J/Indias-burgeoning-youth-are-the-worlds-future.html

http://www.hitachi.com/rev/archive/2019/r2019_02/discussion/index.html

https://www.weforum.org/agenda/2016/01/the-fourth-industrial-revolution-what-it-means-and-how-to-respond/