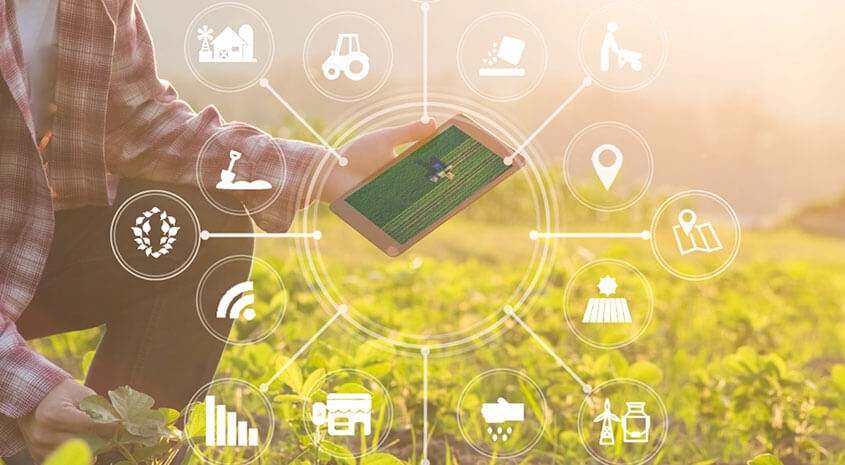 India's agricultural sector is on the cusp of a breakthrough technological transformation. After decades of evolution, starting from mechanization and the Green Revolution, disruptive technologies have ushered in Precision Agriculture. The new farm management approach leverages Geopolitical Systems (GPS) and Artificial Intelligence-enabled software for precise mapping of farmlands and ensuring individual fields or crops get precisely the inputs they need for optimum productivity.

The fourth wave of agricultural revolution, called Agriculture 4.0, Smart Farming or Digital Farming, takes Precision Agriculture even one step further to reengineer the entire farm to fork value chain.

Digital Farming is much required in the Indian context as by 2050, India will have an estimated 1.64 billion population1 and will need 333 million tonnes2 of annual food grain production. Climate change aggravates the situation and threatens to reduce yields of major crops by 25%(1).

Emerging technologies like Internet of Things (IoT), drones, Artificial Intelligence (AI), Machine Learning (ML), Remote Sensing, GPS, cloud computing, and advanced analytics can help India maximize food production in a sustainable manner and usher an era of farmer empowerment.

Through its Social Innovation Business, Hitachi is accelerating the digital transformation of the agriculture sector and improved Quality of Life for farmers. Hitachi's advanced Geographical Information Systems (GIS) solutions are helping farmers pursue data-led cropping system, aiding in more crop per drop. Additionally, Hitachi MRGM Net is nurturing the Connected Farmer Ecosystem enabling the creation of crop portfolio, crop protection, crop insurance and access to Intelligent Market Channels helping farmers thrive, by optimizing price and best yield quality.

Technology is Powering Good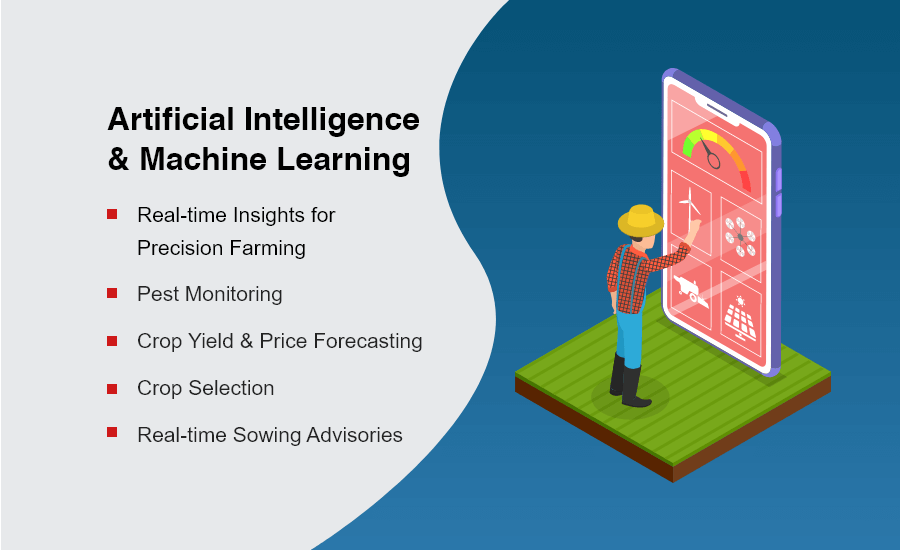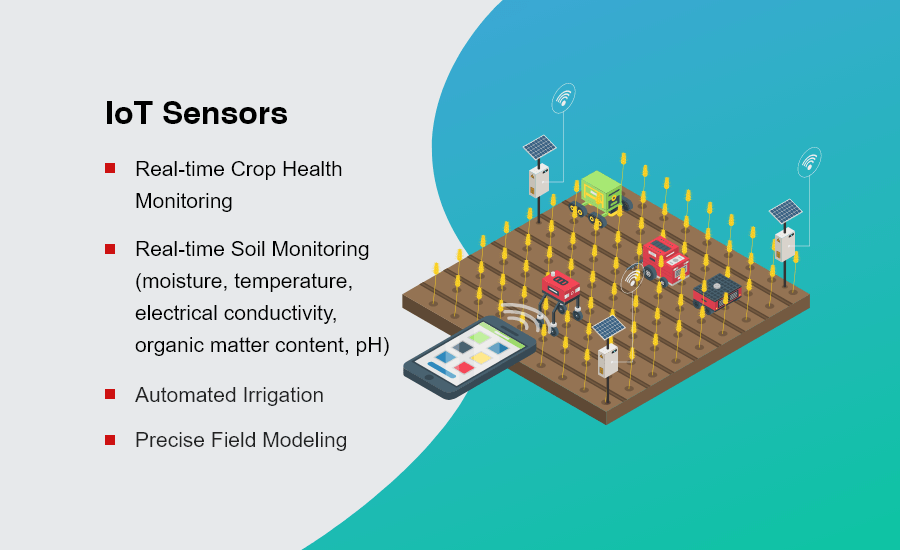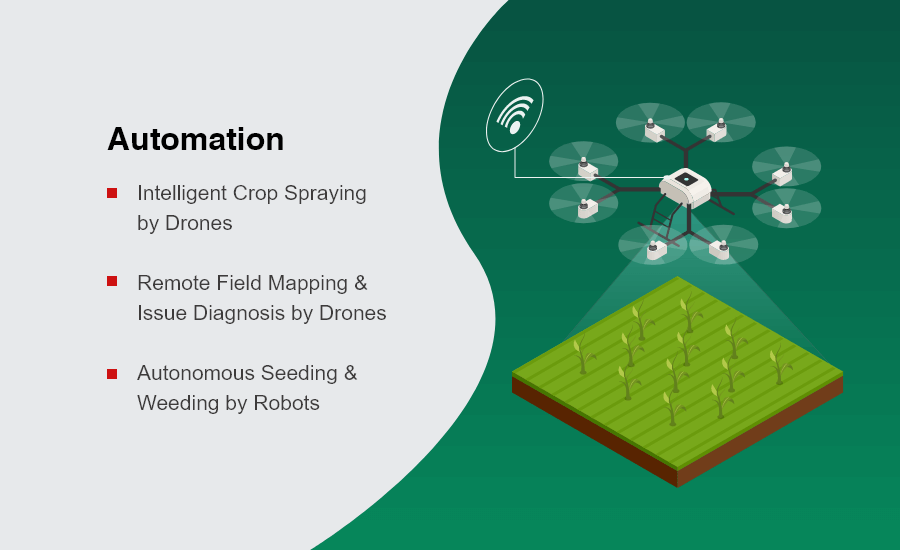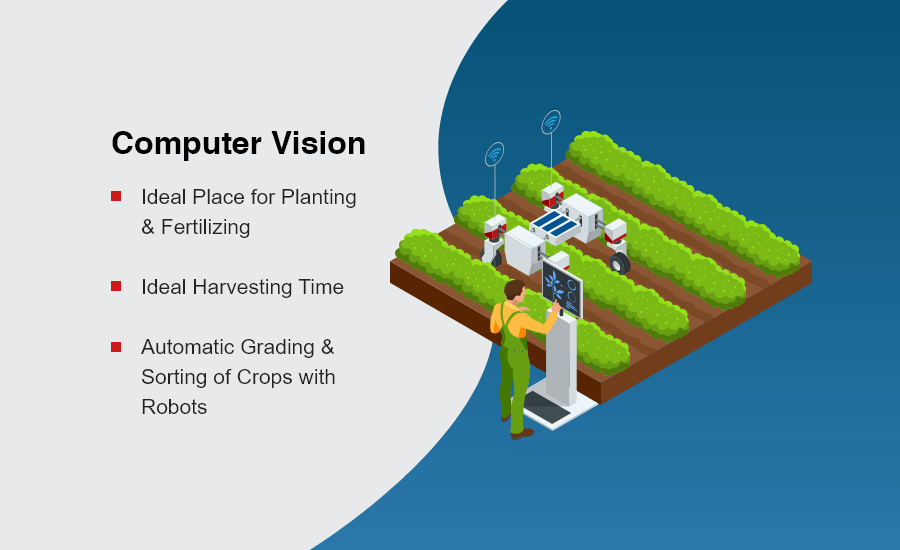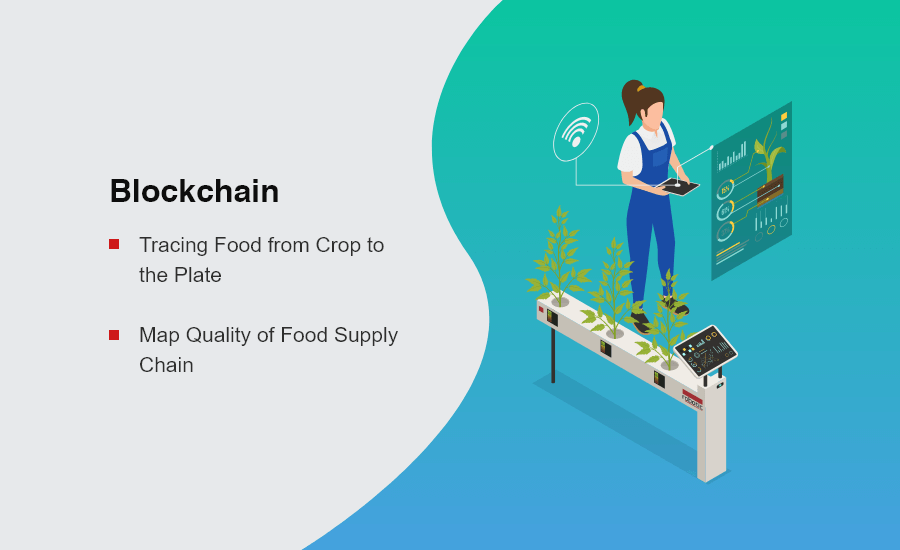 Decreasing agricultural land, small and fragmented land holdings, low output per hectare, depleting groundwater levels, wastage in supply chain, and poor market discovery mechanisms are some of the challenges facing Indian agriculture.

Addressing many of these challenges, Artificial Intelligence and Machine Learning are paving the way for intelligent farming. AI is empowering farmers with real-time demand forecasting, price forecasting, and sowing advisories delivered directly on their phone screen. By making the right crop choices, hybrid seed choices, and precise timing for sowing, farmers can enjoy bountiful yields and maximize their earnings.

Indiscriminate use of pesticides and fertilizers has created a situation of soil infertility in most parts of India. The use of IoT-enabled water and soil sensors, however, prevent excessive use of harmful chemicals. These sensors detect moisture and nutrient levels helping farmers make informed decisions regarding the precise amount of chemicals and water needed to replenish the soil. The result is reduced waste, lowered costs, and increased yields.

Automation is poised to revolutionize the modern farming with robotics and fully autonomous tractors & drones autonomously performing routine tasks like seeding, weeding & harvesting at a higher volume and faster pace.

With pest infestation causing crop losses to the tune of $36 billion(3) across the country and weeds causing annual crop loss of $11 billion(4), sustainable crop protection becomes the need of the hour. Robots, using AI and computer vision, can detect weeds and precisely spray herbicides bringing down expenditure on chemicals by 90%(5). Drones, aerial as well as ground-based, and satellite imagery can help farmers remotely monitor crops, diagnose issues, and make informed decisions regarding crop protection and nutrition.

Meanwhile, advancements in remote sensing equip farmers with greater control in times of unpredictable climatic changes through accurate weather forecasts. As farming relies heavily on natural inputs, which cannot be controlled, GIS applications, such as those offered by Hitachi, are being used to understand and manage crop yield estimates thereby improving agricultural production and empowering farmers with sustainable, economical and eco-friendly technology.

Through online marketplaces (e-Mandis), regular market updates are empowering farmers to maximize their earnings and thrive. Hitachi, using its OT (Operational Technology) x IT expertise and technological prowess, is helping the government directly link the farmers and market for increased transparency in purchasing inputs and selling produce at best prices, greatly enhancing the quality of life of farmers.

Growth Drivers for Technological Disruption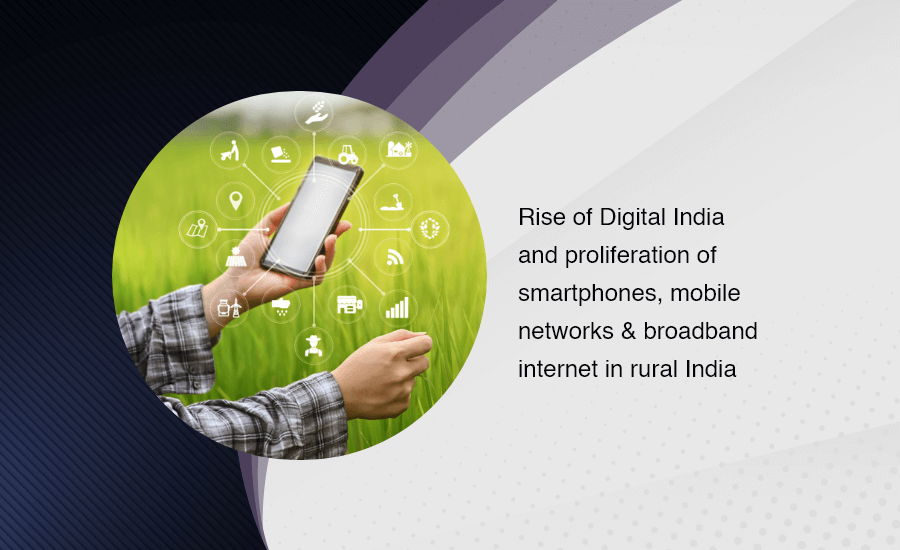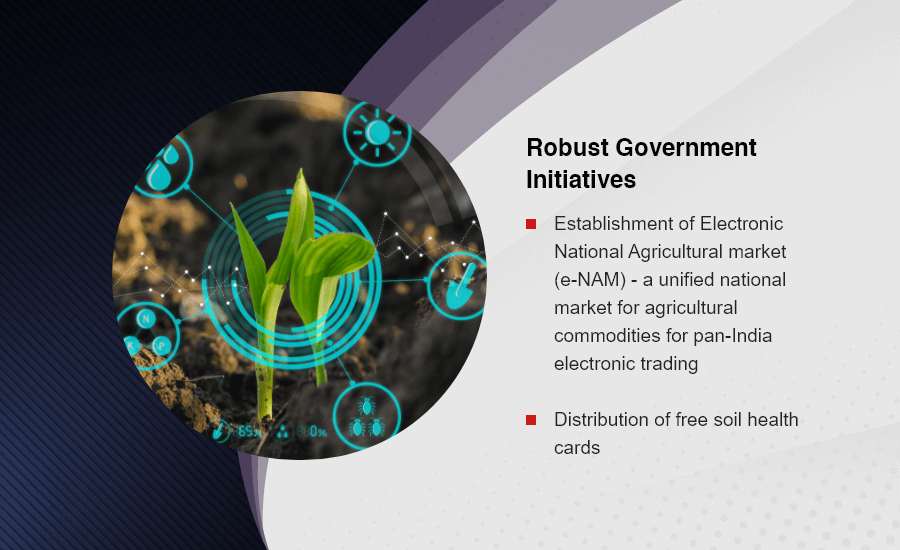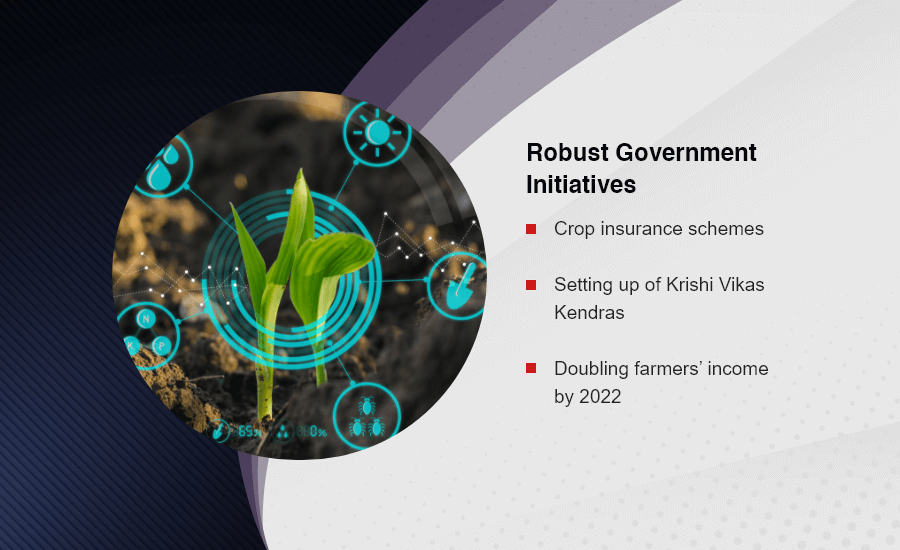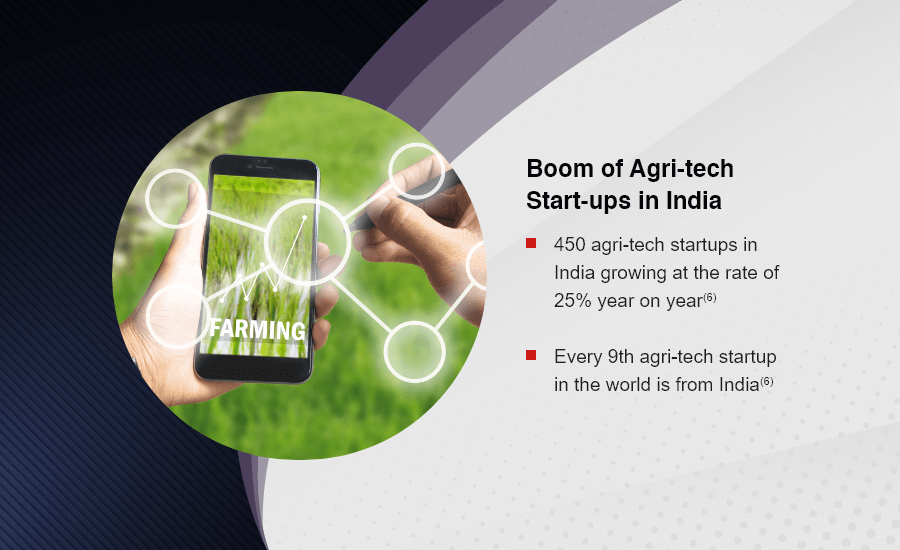 Ensuring Last Mile Success

The success of digital transformation in Indian agriculture heavily relies on dissemination of information and inputs to the last mile i.e. farmers.

Leveraging its Social Innovation Business mission for Powering Good, Hitachi MGRM Net is partnering with the government, public and private sector in delivering end-to-end farmer-centric solutions including educating farmers groups on the latest technologies in farming, Agriculture Extension, remote help for issues, promotion of the agriculture as an enterprise, required knowledge sharing and training.

Easy availability of credit is also a determining factor in helping farmers purchase high-quality seeds and fertilizers for maximum yields.

Through its strong network of White label ATMs under the brand Hitachi Money Spot ATM spread across the rural hinterland, Hitachi Payment Services is empowering the rural populace, including the farmers, by providing access to basic banking services. Additionally, Hitachi Payment Services (HPY) enables banks that have tied up with PUNGRAIN (Punjab Grains Procurement Corporation Ltd), to facilitate automation to PUNGRAIN's commission agents. The agents or Arthiya's deal in agricultural products and are spread across mandis in Punjab. For this initiative, HPY has installed Point of Sale (POS) machines at the mandis.

As and when purchase happens, Arthiya would swipe the card and a swipe inspector will punch following information in the swipe machine – Purchase details (Wheat/Paddy Grade-A/Paddy-common) / No of bags / Qty of the foodgrains / Date of Purchase/auction etc. HPY facilitates by routing and processing such transactions and authentications. This initiative facilitates faster payments to Arthiyas and in turn benefits farmers.

Hitachi is also actively supporting the Government of India's initiative to enable small-time financial institutions to deliver banking services in rural areas. Hitachi Systems Micro Clinic partnered with one such institution, AU Small Finance Bank, to successfully meet the RBI's directive of setting up 418 branches in 45 days, thereby accelerating growth of India's hinterland and augmenting the agriculture sector with financial stability and inclusivity.

By empowering the farmer with the right knowledge, resources and technology, Hitachi is committed to accelerating the digitalization of farming and raising farmers' income for an enhanced Quality of Life.

Source :

https://thewire.in/agriculture/climate-change-poses-serious-threats-to-indias-food-security

http://agrospectrumindia.com/analysis/83/180/innovations-required-for-successful-indian-agriculture-in-future.html

https://www.researchgate.net/publication/282390119_Crop_Losses_due_to_insect_pests_Global_and_Indian_Scenario

https://www.hindustantimes.com/india-news/weeds-cause-annual-crop-loss-of-11-billion-in-india-says-study/story-stMbgxmiRPyJu9eNDwul2M.html

https://www.wipro.com/en-IN/holmes/towards-future-farming-how-artificial-intelligence-is-transforming-the-agriculture-industry/text=AI%20systems%20are%20helping%20to,to%20apply%20within%20the%20region.

https://www.nasscom.in/knowledge-center/publications/agritech-india-emerging-trends-2019#:~:text=NASSCOM's%20report%20titled%20Agritech%20In,stakeholders%20and%20new%20business%20opportunities.