Kiran Verma: Increasing India's Blood Bank Pool, One Step At A Time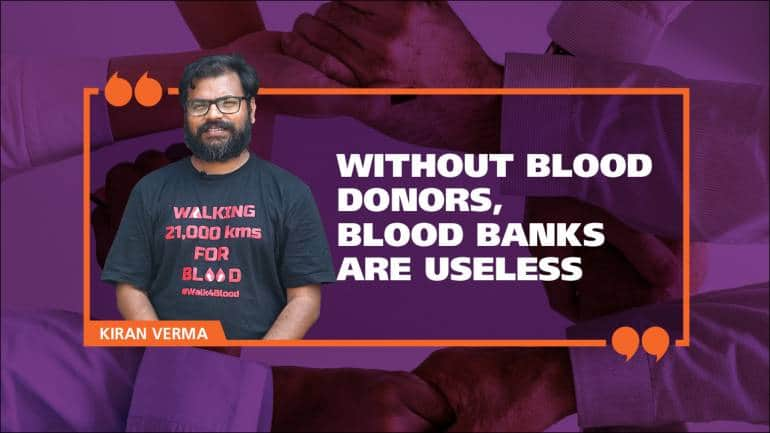 A man's journey on foot to spread awareness about blood donation and ensure that no life is lost due to the unavailability of blood. Kiran Verma is also the founder of the world's first virtual blood bank.
According to World Health Organisation (WHO), blood donation by 1% of the population is generally considered the minimum need to meet a nation's essential requirements for blood. In India, the available blood supply is only 7.4 million units per year, as opposed to the minimum requirement of 8.5 million to 10 million units per year. Kiran Verma is walking the talk to ensure India meets this demand and no life is lost due to a lack of blood supply.
Kiran Verma understood the value of blood when he donated blood to his teacher, saving their life. He then decided to be a blood donor all his life. One of the times when he donated blood, he found out that the low-income family was forced to pay for the blood. To do so, the patient's wife was forced into prostitution. This incident had a significant impact on him, encouraging him to quit his job and with the support of his wife, start Simply Blood, the world's first virtual blood donation platform.
Simply Blood has saved over 35,000 lives worldwide in the last five years. To spread awareness about blood donation, Kiran Verma started Walk4Blood, a 21,000 km journey on foot across different states. So far, he has encouraged over 16,000 people to donate blood and has set up 17 blood donation camps. His mission is to ensure that by 2025, no individual loses their life due to the unavailability of blood.
During the COVID-19 pandemic, he observed that availing blood plasma was a problem. To combat this, he started providing blood plasma by drones. During this period, he also helped people who lost jobs during the pandemic with supplies and finding employment. Kiran Verma also works towards helping people from red-light areas, and drug addicts lead dignified lives. He believes India has a powerful youth, and we have a big potential to bring about positive societal change.
Let us join in recognising Kiran Verma for his efforts towards encouraging the masses to donate blood and contribute to the country's collective blood bank and save lives. Watch his story unfold on Network18 presents Badlaav Humse Hai powered by AU Small Finance Bank: https://bit.ly/3iQQWiY
Moneycontrol journalists were not involved in the creation of the article.