First Kareena and Shahid, then Riya Sen and Ashmit Patel. Now, it's Koena Mitra and Fardeen Khan whose intimate bedroom behaviour is circulating as an MMS clip on mobile phones. But this time, the actors have given their nod of approval, and it's part of a larger promotional strategy for their new film.
For months now, Bollywood's been complaining about multimedia-enabled mobile phones invading their privacy. But now, they've finally found a way to use the mobile phone to their advantage. The producers of the forthcoming film 'Ek Khiladi Ek Haseena' have created an MMS clip or a video clip, containing a steamy song sequence filmed on the film's actors Fardeen Khan and Koena Mitra, which is currently being circulated with the intention of generating a buzz around the film.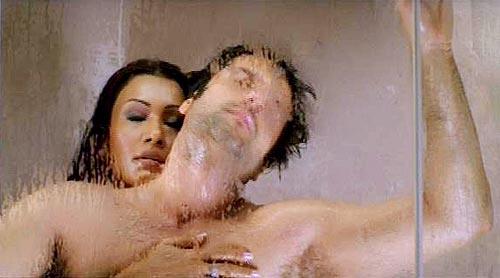 A steamy scene from the MMS clip
Producer Pritish Nandy told CNBC-TV18, "We are cashing in on the curiosity that the word MMS evokes in people. It doesn't mean that we are promoting what the MMSes have earlier promoted - a lot of sleaze - but it does mean that we can use MMS in healthy marketing ways."
Interestingly, although the Censor Board has slapped 'Ek Khiladi Ek Haseena' with an Adults certificate, the film's producers did not hesitate to use the adult content from the film in their promotional MMS clip, which is easily accessible to people of all ages who own multimedia-enabled mobile phones. Their logic is that no censorship system exists to grade, or monitor mobile phone content. Nandy says, "Since there are no such gradings required for a MMS, we can send it out in the normal course."
Insisting that both actors' consent was taken, before embarking on this novel promotional strategy, the producers of the film are confident their plan will work. They insist that not only are MMS clips less expensive than hoardings, TV spots and other conventional promotional tools, but they also reach out directly to the consumer.