New Trains
Messages on New Trains »

Platinum Member
178 Followers
How can u ask such question when u r also travelling in the same train, as revealed by u? He has got down from that train n boarded a new train of Nov series.
8.48 PM Oct 21st
Platinum Member
267 Followers
I don`t find anything wrong in this as they will use that collected money for the people of Uttarakhand. Where were the congressmen when top Congress leader send the relief material by waiving the flag like she was doing the inauguration of any new train or something like that. Its now become
6.37 PM Jul 17th

New Member
1 Followers
YES, 100 % AGREED NARENDRA MODI IS RIGHT. GUJARAT IS BEING TREATED LIKE AN ENEMY BY THE CENTRE : 1) WEATERN RAILWAY : MAXIMUM INCOME, NO NEW TRAINS/ NO METRO`S, NOT EVEN DIVISION 2) MAXIMUM PRODUCER OF GAS BUT NO GAS TO GUJARAT : RESULT IN HIGHEST COST OF CNG IN COUNTRY 3) NO SOLAR / WIND FARM
8.22 PM Jun 28th

Platinum Member
55 Followers
not do so? Another question he was trying to show Railway is running in loss then how he will introduce new trains, opening new factories for railway and recruit 1.5 lakh people...That money will come from sky when Finance minister is not giving you....Railway is earning very good amount from passenger
3.27 PM Feb 27th
Platinum Member
192619 Followers
Source:DNA India - Though Puneites had high expectations from this year s railway budget, all that has been offered to them is peanuts. While Pune did not get a single new direct train, two new trains have been announced for Mumbai which will be traveling via Pune. In the Union railway budget 2013
1.25 PM Feb 27th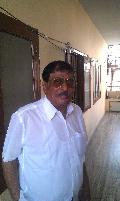 Platinum Member
37 Followers
YES - Passengers are more concerned with Safety, security & hygienic food and comforts in compartments but not more new trains !! There is no much efforts on those expectations !!
12.15 PM Feb 27th
Platinum Member
192619 Followers
Source:DNA India - With no fare hikes, 106 new trains and a host of proposals for travel safety and comfort, such as escalators at key stations, a new e-ticketing system and a swanky coach in select trains, Railway Minister Pawan Kumar Bansal presented his maiden annual budget for his ministry
5.49 PM Feb 26th

Platinum Member
26 Followers
What is the use of having new trains if your economy is in bad shape & going bankrupt ? First focus on building good quality affordable housing for people & improving the economic conditions, rather than squandering money on trains & awarding contracts in which govt get`s big fat commisions. Our
5.29 PM Feb 26th

Platinum Member
685 Followers
67 new trains introduced and Nifty falls by 94 pts!
3.54 PM Feb 26th
new train from sultanpur u. P.
3.39 PM Feb 26th
News across the web »
Dec 05, 2013 at 12:07 | Source:
DNA India
Nov 26, 2013 at 19:52 | Source:
The Hindu BusinessLine
Copyright © e-Eighteen.com Ltd. All rights reserved. Reproduction of news articles, photos, videos or any other content in whole or in part in any form or medium without express written permission of moneycontrol.com is prohibited.