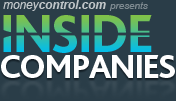 "Both lighting and consumer durable sectors are doing well. The lighting is growing by 10-11 percent and the consumer durable 20-22 percent," says Shekhar Bajaj, chairman and MD of the company in an interview to CNBC-TV18.
read more
1
Other Companies on:
Know about his style of work, vision that he holds for the future, mission that drives him to achieve excellence and examples that he wants to set for the GenX
Vision without action is a dream. Action without vision is simply passing the time. Action with Vision is making a positive difference. Find out how these companies are making a positive difference with their efforts, initiatives and actions.
Catch CEO in Spotlight off- guard as we throw a volley of questions and get some spur of the moment replies. He will not be given any time to thinků